An Investigative Study into Nuisance Abatement with ProPublica
I worked with ProPublica and Sarah Ryley, investigative reporter, to tell the story of how the police were expelling New Yorkers from their homes – regardless of whether they had committed a crime—all by invoking a law called Nuisance Abatement. Read the ACLU study of this law in action in two smaller jurisdictions, here.
It is happening in apartments and businesses, mostly in neighborhoods of color. Sometimes for any kind of small crime or just on suspicion of a crime. Some families have been separated. Elderly parents have lost the help of their caregiving sons. Mothers praying at home using candles were unjustly accused of handling cocaine. One homeless mother found an apartment to only end up in the street again. Many business owners who came to New York City in pursuit of the American Dream gave up entirely. Others remained behind to protest the high-cost penalties and to fight endless legal battles.
The following is a selection from this long-term investigation. I assisted Sarah in interviewing Spanish-only speakers and contributed in-field reporting.
The full report on how it affected residents and local businesses can be found here. https://www.propublica.org/article/nypd-nuisance-abatement-evictions

https://www.propublica.org/article/nypd-nuisance-abatement-shop-stings-warrantless-searches

Jameelah El-Shabazz, 43, mother of five was one of many arrested during a drug raid in a Bronx building. Police claimed to have found 45 cups of cocaine and tried to remove her from her apartment. The powder was later found to be crushed egg shells known as efun powder.
An altar in Jameelah El-Shabazz's apartment in the Bronx. El-Shabazz had to repeatedly fight to keep her apartment after police mistook crushed eggshells for cocaine.
Jameelah shows crushed egg shells that the polcie found on her hands when they raided her apartment.
Jameelah's kids play in one of the bedrooms after getting her apartment back.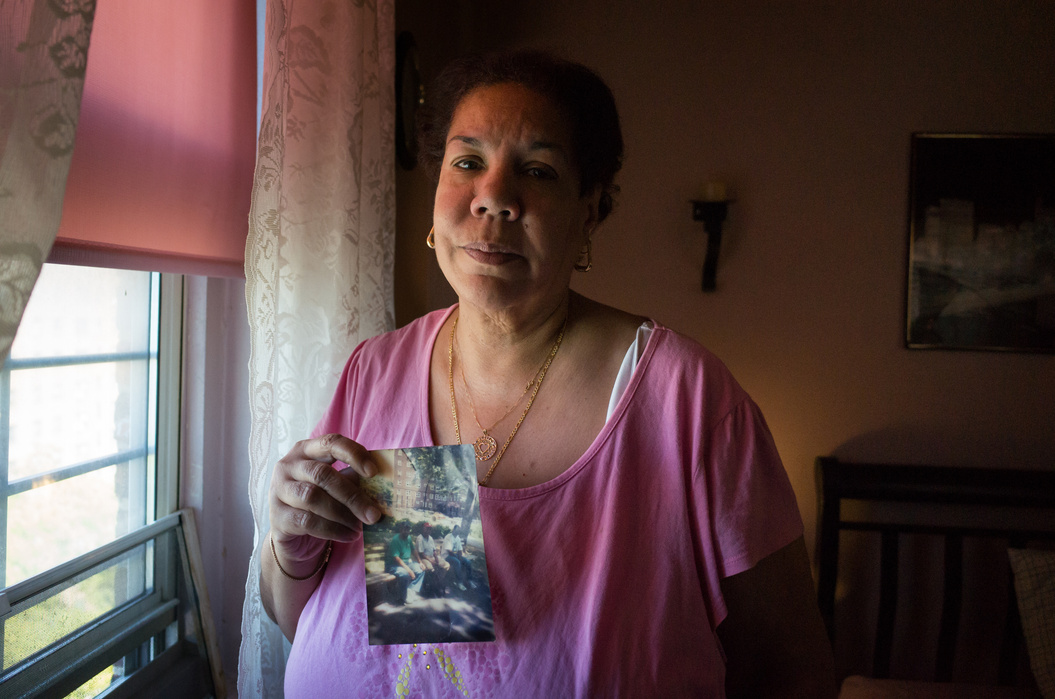 Maritza Rivera holds a photograph of her brother, Luis Rivera, who was shut out of his apartment for nearly a month while he was gravely ill. She says Luis Rivera died in September of cancer of the esophagus and cirrhosis of the liver.
Judge Michael D. Stallman reviews temporary lockout cases for Nuisance Abatement actions. Judge Stallman had the lowest percentage of approvals for lock out buts across New York City, judges in general, approved 70% of lockouts.
Asia Short in the stairway of her friend's apartment in Bedford-Stuyvesant, Brooklyn. Asia and her kids lost her Queens apartment as the result of a nuisance abatement action and has been homeless since. She is staying at a friends house.
Asia at a friend's birthday party. Police raided her apartment and found a bag full of drugs that belonged to Asia's boyfriend.
A temporary lockout sticker remains on the front door of Asia's old apartment.
Asia turns in to visit her mother's house in Queens after a long day.
Carmen Otero is a spanish-speaking grandmother who signed a strict settlement agreement in civil court that barred her son, Miguel Gomez, after an eviction notice was served. She could't read because she feared she'd go to jail if she refused — and there wasn't an interpreter there to explain otherwise.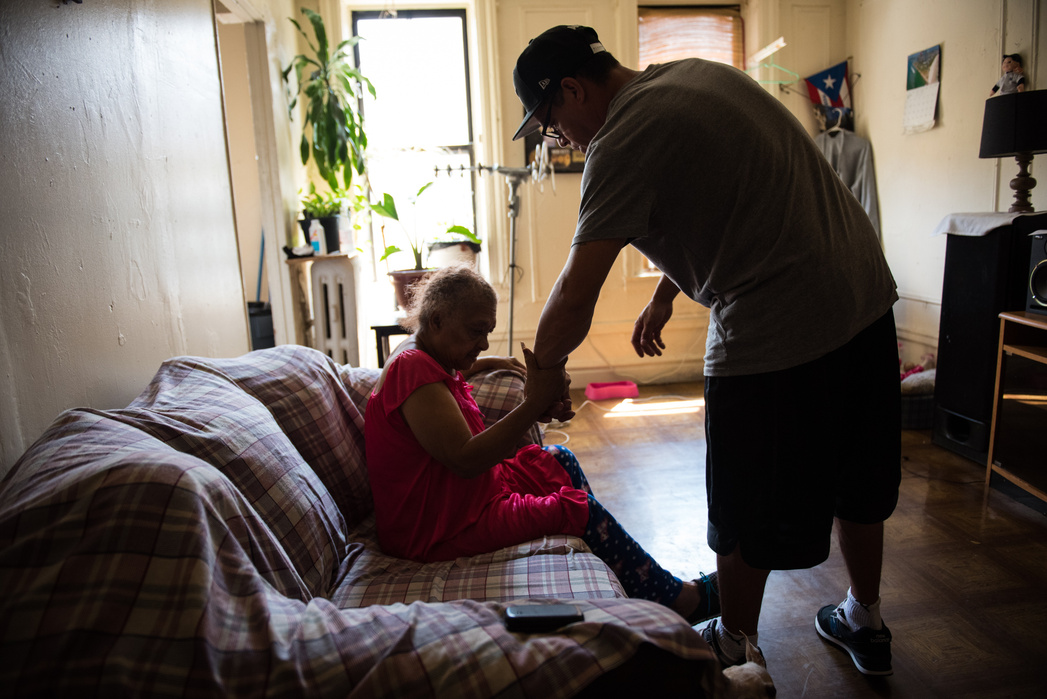 Miguel Gomez helps Carmen get up to use the bathroom. Otero, who says she wasn't provided with a Spanish interpreter, agreed to allow the NYPD to make unannounced inspections of her apartment.
David Diaz was forced to ban his family members from his apartment to be able to keep his home.
David's family hangs outside of his apartment.
Juan Vadi, 54, is the primary caretaker for his mother and father. After he pled guilty to a misdemeanor for having a small amount of crack, Vadi agreed to never stay at his parents.
Juan Vadi at home with his parents.
Juan returns to a shelter every night because he is physically barred from staying at his parents apartment in Queens.
Spanish-American Grocery in the Bronx got two summons for sale of alcohol to minors under the NYPD's nuisance abatement law. According the immigrant owner's account underage auxiliary police officers would try to buy beer claiming they were 21, but not showing him ID.
Fernando Sencion, father of three, got two summons and had to go to jail for sale of alcohol to minors under the NYPD's nuis
Storeowners frequently must agree to install cameras and electronic card readers that the NYPD can access at any time in order to avoid closure.
Juan Paz ,an immigrant from Mexico, attends the counter at Bronx Express liquor. In 2011 police arrested him for the sale of alcohol to underage auxiliary police officers.
A surveillance system mentions customers at Bronx Express Liquor store
A street scene along White Plains Rd where many of the local businesses were shut down under temporary closing orders by the NYPD under the Nuisance Abatement law. .
A lock on the beer refrigerator is used as a tool to keep customers who are underage from taking beer from the store.
Sewnarin Jaipersaue, 52, inside of Oasis Restaurant and Bar on 684 East 241 street in the Bronx. Court record states three incidents of alcohol sales to minors between February and April of 2013.
Black Pearl on 4637 White Plains Rd. in the Bronx was closed after alcohol violations.