Jerome Avenue Workers Project
This is a selection of my images photographed for the Jerome Avenue Project as a member of the Bronx Photo League.
The Jerome Avene Workers Project documents and celebrates the workers and trades people of Jerome Avenue, one of New York City's few remaining working class neighborhoods where many still make a living in small shops and factories, or repairing auto- mobiles. The city is considering a plan to rezone two miles along Jerome Ave: speculation and rising rents are already evident. If passed, the rezoning will lead to construction of housing units, but also, many believe, to the end of a proud culture of industry and work in this last bastion of New York City's working class.
The Bronx Photo League, a project of the Bronx Documentary Center, is made up of 16 Bronx photographers committed to documenting social issues and change in our borough. The Photo League works to present a balanced and nuanced image of the Bronx. The Jerome Avenue Workers Project is the Photo League's first major exhibition.
The portraits were shot on Kodak Tri-X negative film with Hasselblad cameras and lenses. Authentic silver gelatin darkroom prints will be on display.
*Excerpt taken from the Jerome Avenue Workers Website.
More information, video, and photographs from other photographers in the Bronx Photo League can be found at the official Jerome Avenue Workers Project Website.
http://lens.blogs.nytimes.com/2015/10/02/bracing-for-gentrification-in-the-south-bronx/
Bella Santiago Rodriquez, a 21-year-old native Brazilian, hangs around the Flat Fix Shop on 1245 Jerome Avenue, where she's made a new group of friends that she calls family. She came from Brazil five months ago because of family issues. She hopes to find work at one of the flat fix shops along Jerome Avenue.
A homeless woman hangs around an Auto Glass shop on 168th street using an umbrella to shade herself from the hot August sun.
Jose Reyes, 45, takes a break from working on a wheel alignment at his Flat Fix auto shop on Jerome. Jose left behind a lucrative career as a professional baseball player to settle down, start a business, and focus on his family.
Eugenio Gomez and Estervin Frias take a break from a paint job outside of Auto Collision Body Shop on 1829 Jerome Avenue. Eugenio, 40-years-old, has worked at this shop for four years. Eugenio is a single parent and is raising two kids. Estervin, 26, is of a younger generation who recently came from Puerto Rico due to the poor economy.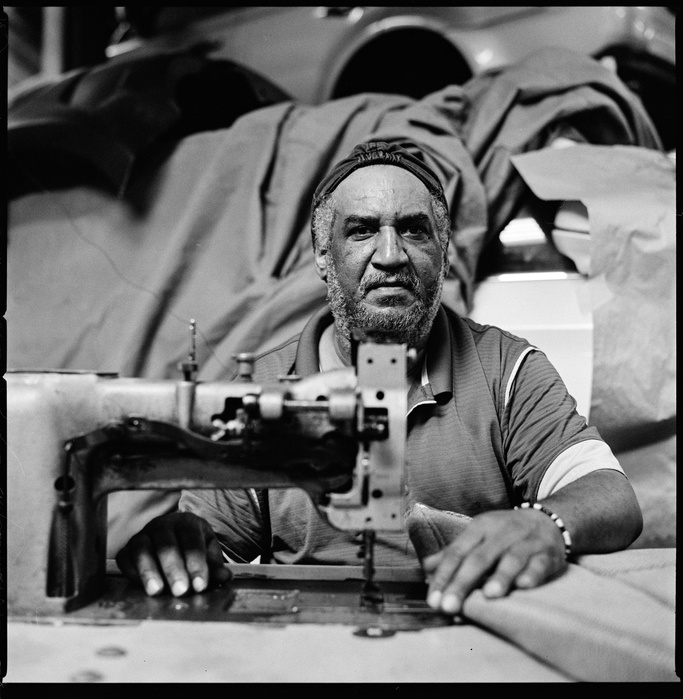 Dario Peguero, 53-years-old, sews car upholstery at Auto Body Collision and Interior at 1491 Jerome Avenue. Originally from the Dominican Republic, he immigrated to the Bronx 20 years ago. "I knew I had a job here before I left D.R. because my brother worked on Jerome and I came to help him out," he said.
Two girls outside of a Dominican barbershop near Jerome Avenue.
A cuban mechanic takes a break from work was really surprised to hear of the rezoning.
Angel Guerrero has been working on Jerome as a fish salesman for a year. He recently came from Mexico and quickly found a job to help him sustain himself and relatives at home. He thinks that the city is slowly stripping away opportunities for immigrants to survive.
Cesar Vaez, 25, has been working on Jerome Avenue since the age of 14. He came from the Dominican Republic and went to High School but everyday afterschool he would show up at the tire shop to earn a little money. At 17, Cesar found out he was going to be a father. He finished his GED and began full-time work at a tire shop on Jerome. With his wages he has helped to raise 2 kids and supports his wife.
A view down Jerome Avenue with the elevated 4 train station.
A Quranic teacher on his way to a mosque on Davidson Avenue to teach the Quran to a group of students enrolled in a summer study program.
Ramona, 54-years-old, has worked in Jerome since 1990. She has been the owner of YC & L Auto Repair for nine years.